NEW EVENT
NOW on SUNDAY 10/25

We will be holding the above mentioned event in partnership with Food Not Bombs, Cultivating Roots, and Activism in Action. Bring your mask and work gloves and meet us at 357 Oak Street Aberdeen, WA 98520 this Sunday Oct 25th from 12PM to 2PM.
We are holding this event in order to drum up some interest in these local mutual aid projects as well as to bring people together to meet and talk about other projects in need of starting, current needs, future events, and anything else that we feel needs addressed. Please consider joining us here or online to get involved in whatever capacity you can.
Project ideas to discuss:
Food Not Lawns
Repair Clinics (home, auto, bike, etc)
Mutual Aid Depot
This list along with the following resources will be on our NEW Projects, Ideas, and Resources page as well, along with some podcasts episodes that may be of interest.
Mutual-Aid-Disaster-Relief-Welcome-Packet-2018
THE RESILIENCE WE WANT: A GUIDE TO MAKING YOUR COMMUNITY SPACE INTO A HUB FOR LOCAL RESILIENCE & MUTUAL AID
Mutual Aid Disaster Relief Resource Page
YOU HAVE SKILLS – Evaluating What Skills You Can Bring to Radical Organizing
Affinity Groups – Buddies, Quick Consensus, Spokes-councils
They would also like help installing a free pantry located at the garden. They will be working with FNB to ensure that the garden is producing as much food for as many people as possible.
***UPDATE 10/25*** New compost will be added to the beds and finish getting the garden ready for winter by some final weeding, collecting seeds, and planting winter cover. This time we hope to get more of the housing community members to come out and join.
Will be tabling some tasty vegan food made with ingredients from the garden, as well as looking to recruit some volunteers for future organizing and actions. (think community fridges, free pantries, etc). They will also be accepting donations of any food products AIA cannot make use of such as fresh produce.
***UPDATE 10/25*** FNB is calling all artists to come and help finish their banner, they have a new blog post all about the next steps for making a Food Not Bombs group. They are trying to connect with the houseless community to find out where and when are the best for tabling a weekly meal.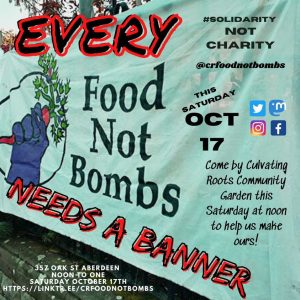 Is and has been working closely with many mutual aid groups in the PNW region to bring supplies to people affected by COVID-19, wildfires, and capitalism generally.
They will be collecting weekly for continuous deliveries throughout the region and locally at least until the end of the year. Please follow them on Facebook and check below for a current needs list from Fire Igniting the Spirit, Snack Bloc PDX and Symbiosis PDX.
From AIA:
Reminder! Today's event at Cultivating Roots with the Chehalis River Mutual Aid Network — AiA has joined the coalition of mutual aid partners doing local work and is holding a donation drive today to contribute resources.

Please support, go share a free meal, assist in garden work party, and drop donations going to mutual aid partners throughout the region.

If you have gently used items please contact April Obi to drop off for local houseless outreach

Supply needs include: (New/Unused)

*PRIORITY NEED*

*PPE*

Diapers

Wipes

Formula

Children's Socks

Children's coats

*Paper Towels*

*Toilet Paper*

Bottled Water

*Laundry, Dish, Body Soap*

*Household disinfectant*

*Hand Sanitizer*

*Plastic Spray Bottles*

Adult socks

Adult Winter coats

Adult rain gear

Umbrellas

Flashlights

Tents

Tarps

Sleeping bags

Dog & Cat food

Batteries

Gloves

For food donations please contribute to the little pantry in Hoquiam or speak with contacts today at the event.